FRED BLOTT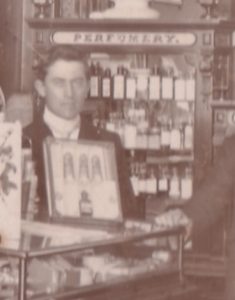 The business trading as F.G.Blott Chemist opened in 1909. It was in a two storied building at, what was then numbered as 117 Remuera Rd. The other half was shared by R.W.Hellaby, Butcher at 115 Remuera Road and on the other side was a vacant section. However, this was quickly built on and another new business started here. As fire regulations of the time required, the building was constructed of brick side walls. The building had horizontal weatherboards on the front of the first floor where there was a pair of casement windows. In conformity with the other businesses, a wide verandah extended the full width of the footpath, meeting the unsealed road. A gas light burned under his shop verandah at night, which created a meeting place for the people of Remuera village.
Fred was born in 1881 and came from a well to do family residing in Mt. Eden. He attended Mt Eden School and his secondary school education was undertaken at the Prince Albert College in Queen Street (close by to Partington's Windmill). This school was founded originally as the Wesley College and reopened as the Prince Albert College in 1895.
Frederick George Blott, was registered No. 828 as a Pharmaceutical Chemist on the 11th June 1907. He served his apprenticeship with one of the earliest and most respected and successful Queen St, Auckland chemists, John Edson. This probably would have motivated the young Fred Blott's enthusiasm for starting out on his own as a 29 year old.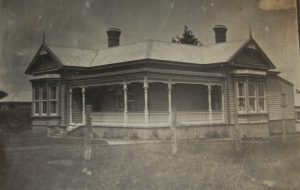 Fred and his family lived at 47 Mont Le Grand Rd, Mt. Eden on about 2 acres. In the early days Fred would make the daily trip in a horse and trap to the Remuera pharmacy, and as technology changed he acquired a Buick motorcar. Fred was always impeccably dressed, wearing his hat whenever venturing outside. Fred had 2 daughters, Gwen and Muriel, the elder Gwen attended the Ladies College, Remuera and where she was to encounter Jean Batten, NZ's famous aviatrix.
Fred's pharmacy were quiet small and most of his business initially was as a dispensing chemist. Fred worked very long hours in his early days, his shop open every week night until 9 o'clock, except on Saturday, when it shut at 10 p.m. On Sundays it opened in the mornings and evenings. There was a half-holiday on Wednesday, although when he first worked in Queen Street as an apprentice, a half-day was unknown in the profession.
Fred was one of the foundation subscribers of The Auckland All Night Dispensary, taking 3 shares at £5 each. In 1916 the first All Night Pharmacy opened in Khyber Pass Road. This was an experiment with an all night dispensary, after six o'clock closing was introduced in Auckland in 1915. The proven need for this resulted in the opening of all-night dispensaries to allow urgent dispensing after hours. Charles Tennent was appointed the first Manager living on the premises, allowing the Auckland Chemists to significantly reduce their working week. The All Night Pharmacy was moved to Newton Road in 1927, with a five bedroom house provided at the rear for the Manager.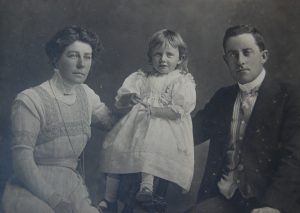 The shop that Fred Blott opened I can imagine was of a reasonably good standard in its day. It was the only shop in this Remuera district that was to ever have its own personalized embossed medicine bottle manufactured. "F.G.BLOTT CHEMIST REMUERA" being printed sideways onto the bottle. These chemist bottles, along with many other requisite items, were predominantly made available through the American firm of Whitall Tatum Co. who had a branch office in Sydney, or else the English York Glass Co. A few high quality bottle labels have also survived, as illustrated.
One of the anecdotes that has been recounted about Fred's trading days, was his entrepreneurial skills. If he had a request for an item he didn't have in stock, he would phone through to the wholesaler, Kempthorne Prosser (at the bottom of Albert St in the city) and have one of their staff deliver the item to the motorman of the Remuera tram. The tram would bring it through to Remuera tram stop where it would be collected. The customer would come back later in the day to purchase the item and everyone was happy.
Fred was thrust fully into the rigours of the 1918 influenza epidemic. The first fruiterer in Remuera, Mr. Cato, died in 1918 from this epidemic. The epidemic left a vivid memory with Mr Blott. Under Lady Buckleton, whose husband was general manager of the Bank of New Zealand, a depot was set up in the council yard buildings in Remuera Road. For three weeks it meant day and night toil for Fred in dispensing. No charge was made to patients by doctors whenever those at the depot regarded the circumstances as poor. Fred escaped the 'flu himself.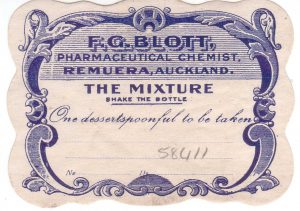 Having gone through the hard work of establishing a new business, Fred's monopoly on the local pharmacy market was finally challenged in 1924 when Roland Wylie opened his new purpose-built shop on the corner of Remuera Rd and Victoria Avenue. This was at a time when the residential catchment area numbered approximately 3,000 people and this astute businessman with new premises and ideas took a lot of business away from Fred, in his now fairly small pokey shop. (I shall return to Wylie's Pharmacy later).
There is an interesting incident that was recorded by Fred in an article "Old Remuera". He relates "Remuera once had a volunteer fire brigade. In what is now the City Council yard in Remuera Road stood a hand reel, ready for action. Fred tells how he and another man, neither members of the brigade, once answered a call to a fire at the bottom of Victoria Avenue. They rushed out the reel, and ran with it to the bottom of the avenue. Of course, they didn't pull it all the way. Once it got under way on the slope, it pulled them. Alas, their mighty effort went for nothing. The fire was out when, out of breath, they arrived at the scene. By then, volunteer members of the brigade had also appeared. They pulled the reel back."
As was not uncommon then and now in first line medical support, many accident cases were brought to him. One day two elderly women, crossing from the feeder bus service stop at the top of Victoria Avenue, to the then tram terminus near the present taxi stand in Remuera Road, where knocked down by a car. One died in Fred's shop, the other after treatment was taken to hospital.
An article in the Remuera Round on 5th December 1945 records Fred's senior statesman position as he presided at the events of the welcoming of the new Post Master, Mr. F.W.Rivers to the village.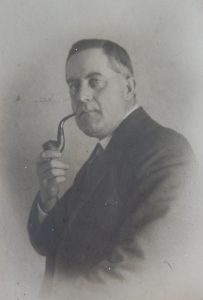 Fred Blott continued on in his business for 40 years until approximately 1949 when he sold it to Frank Sanft. Fred did not immediately retire but went on to do locum work in a pharmacy called Delaney and Menzies in Queen St and then at Dominion Road, close to his residence. Fred died in June 1957.
His obituary in the Auckland Star of 15 June 1957 reads:-
Mr. Frederick George Blott a justice of the peace and a resident of Mt. Eden for more than 60 years, has died, aged 76. Educated at Mt. Eden School and Prince Albert College, Mr. Blott qualified as a chemist and started a business at Remuera, where he practiced for 40 years. He was a senior deacon and church secretary of the Mt. Congregational Church for 17 years. He played a prominent part in the formation of the Congregational College and was member of its council, and a committee member of the Discharged Prisoners' Aid Society. Mr Blott is survived by his wife, two daughters and three grandchildren.
---
FRANK SANFT
Frank Sanft was the youngest son of seven children, born in 1908 in Tonga, of German parentage. Two of Frank's older brothers were NZ qualified pharmacists, being Baldwin and Ralph Sanft who both owned pharmacy shops in Auckland. Baldwin's pharmacy was in Queen St, on the corner of Wakefield St, and Ralph's pharmacy was in upper Symonds Street.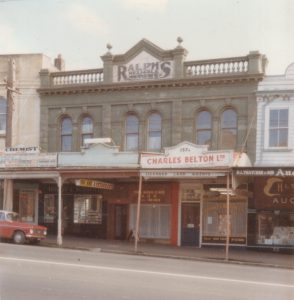 Ralph was very instrumental in the story behind Frank's career in pharmacy, although Frank never fully qualified as a registered pharmacist. Ralph was a very bright and entrepreneurial person and he ran classes for pharmacy students in their practical skills. He formulated many of his own products, being advertised as "Ralph's Reliable Remedies" which was emblazoned on the parapet of the 2 storied building in Symonds Street.
It was in this environment that Frank worked and studied, and Frank was very involved in the veterinary side of the business, and he conducted Saturday morning veterinary sessions in the shop. As time went by he requested for his brothers to set him up in business, but they refused as they wanted him to get qualified first.
Frank moved away from Ralph and set up on his own as Frank Sanft's Pharmacy Ltd buying his first and only business, F.G.Blott, Chemist, from Fred Blott in approximately 1949. As he was unqualified he was required to always employ a qualified pharmacist in the shop, and the longest serving was Samuel Henry Kerr.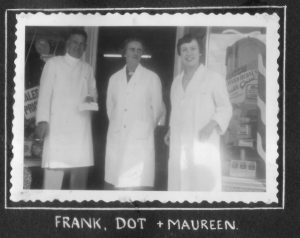 A local doctor; Edmund Fitzgerald at 640 Remuera Road arranged for his daughter Maureen Isobel Fitzgerald to be the apprentice pharmacist under Mr. Kerr in October 1950. Maureen's Articles of Apprenticeship were assigned to Bruce Culpan as the qualified pharmacist in May 1953, as Mr Kerr left Remuera.
It was in mid 1954 that Bruce Culpan went overseas in the NZ rowing team competing at the Commonwealth Game and through his absence Frank employed his young niece Ila Murray (nee Rowan) as a locum. Ila described this as a very special time working for her favourite uncle and living down Victoria Ave with the very cultivated and musical Burry family.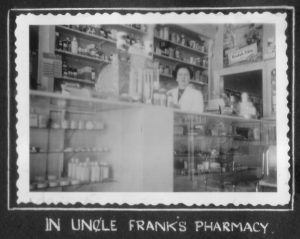 Frank was a very handsome and outgoing person who enjoyed his sport, and was loved by his customers. With the staff levels that he had he wasn't actually involved much in either the dispensary or the retail side but was quiet a character with the customers and always kept apprentices on show to keep the professional appearance of the business. Dorothy, his wife, appears to have worked continually in the shop. He had an untimely death in April 1956 as a 47 year old when he had a heart attack and his car crashed into the Symonds Street end of Grafton Bridge.
---
BRUCE CULPAN
Bruce grew up in Westmere and went to Mt Albert Grammar School. This school proved to be a breeding ground for pharmacists at this stage. Bruce did his apprenticeship at Grafton Pharmacy, where he met his wife June Culpan who worked as a nurse at Auckland Hospital.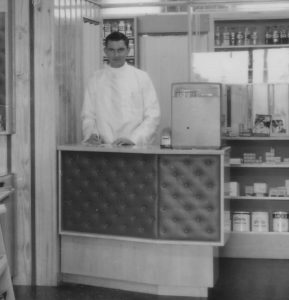 Bruce use to bike to Grafton Pharmacy, where he started his apprenticeship under A.B Downing in 1946. Bruce qualified after 4 years. He then took on the position of the relieving pharmacist at Frank Sanft's pharmacy, which he did until Frank died in 1956. Bruce was then asked by Dorothy Sanft to continue on as the pharmacist, which Bruce did, and ultimately Bruce purchased the business from Frank's Estate. He very quickly looked towards a new image, and changed the shop name to Remuera Pharmacy. This caused a stir amongst the other retail pharmacists in Remuera, as traditionally they had all traded by their personal names. Bruce was urged not to use this name, as all the local pharmacists were "Remuera pharmacies", however Bruce saw the good marketing sense in this move.
Bruce was the first pharmacy owner to purchase the building, which gave him the flexibility to change the layout, and to create a passageway from the street down the side to access a doctor's surgery upstairs. Bruce also gave the shop a complete overhall and facelift, fitting a planter box outside the window. At this time he also had a heavy cast iron and enameled set of scales which remained outside the shop overnight, however they were stolen.
Bruce has won 2 silver medals for New Zealand in rowing at the Commonwealth Games, in 1950 and 1954. He was a founding member of the Westend Rowing Club and also a foundation member for the Auckland Joggers Club, Bruce could regularly be seen pounding the streets of Remuera until he had 2 hip replacements.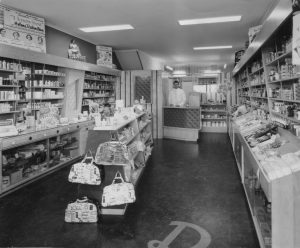 Bruce liked to dabble with chemicals, his main interest being explosives and at the end of the war, a new product on the market was Underwater Fuses. Bruce made a shell casing and mixed up the necessary chemicals. He took it down to the Westend Rowing Club and decided to give the boys some fun, it went off like a depth charger.
Over the years Bruce enjoyed family life with his wife, two sons and two daughters, living down Clonbern Road, within walking distance of the shop. Bruce Culpan is highly regarded in Remuera and it's well known that he would go out of his way for anyone at anytime. Bruce sold the business to one of his former apprentices, David Gasseltine, on 16th July 2003.