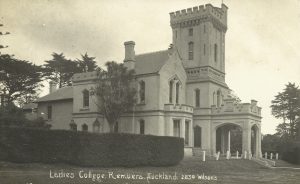 Terry is researching the fascinating history of The Ladies College, which existed in Remuera between 1880 and 1934. (Please click here for Timeline)
The Ladies College was a private school for girls (and latterly boys). The first headmistress, Mrs Catherine Law, was superseded by the charismatic Mrs. Sarah Ann Moore-Jones in 1894.
When the Ladies College was founded by Mrs. Catherine Law in 1880, it was located in Brighton Road, now Bassett Road. In 1883 it moved into a large house in Portland Road. The school was relocated to Garden Road in 1900.
The building in Garden Road was a very grand structure including a tower, built in the mid-Victorian period. When The Ladies College moved there, it had 7 acres of land attached. The building was known by the name of Cleveland House.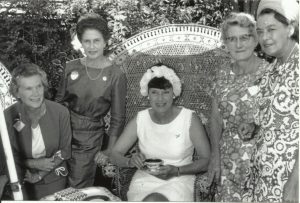 The Ladies College catered for up to 40 boarders as well as day students. Possibly one of its most notable students was the aviatrix Jean Batten.
However there were hundreds of students, who all had stories, and Terry would like to connect with people and record as many of these as possible.
Terry would be very interested to hear from anyone who can assist him in this quest, with any of the following:-
Written information on The Ladies College

Descendants of pupils and staff at the College

Uniform, hats, blazer and badges

Photos of interior/exterior of buildings/grounds

Anecdotal stories

Correspondence, photos, diaries, autograph books or text books of any person involved with the school.

Information / photos on the demolition of Cleveland House.

Information and records of the Clevedon House Old Girls Association.
Please click here for my contact details.