The Remuera Seminary and The Ladies' College, Remuera (1880-1934)
TIMELINE
---
September 1880:
Mrs Catherine Law and sister Miss Morton " announce that they intend opening a Select School for the Board and Education of Young Ladies at Brighton Road." ( now Bassett Road ).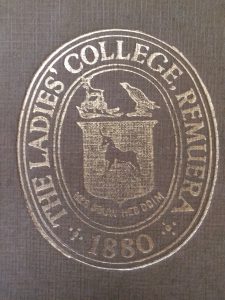 School opened to students in the 3rd Term.
January 1882:
" Remuera Seminary" moved next to St Luke's Church, Remuera Road.
1883:
Located to upper corner of Portland Road & Westbury Crescent
Built a large house for more suitable accommodation and tuition.
September 1890:
Renamed to " Portland Road ( Remuera) Boarding and Day School for Ladies."
May 1891:
Renamed to " Girls' College.", Remuera.
February 1895:
Mrs Sarah Ann Moore-Jones became Principal of the Girls' College, role approximately 60 pupils, 10 being boarders.
September 1895:
Renamed to "The Ladies' College, Remuera."
January 1900:
School relocated to Cleveland House, leased from Mr Edward Withy, set in 9 acres, with long curved driveway ( now Garden Road ), from Remuera Road.
Renamed to " The Ladies' College and School of Music."
May 1908:
Mrs Moore-Jones purchased Cleveland House, grounds had been reduced to 7 acres.
1921:
Mrs Moore-Jones retired from the active management of school, continued on by her 2 daughters Amy and Winifred Moore-Jones.
1924:
Garden Road established ,being the former school driveway from Remuera Road.
Renamed to "Cleveland House", and takes in junior pupils, including boys.
September 1929:
Mrs Sarah Ann Moore-Jones dies, 90 years old.
29 October 1929:
Wall Street share market crash – start of the Great Depression.
December 1934:
1939:
School business wound up & finalised.
1966:
Cleveland House sold & demolished.