The founder of Wylie's Pharmacy, Roland Wylie became a chemist because he liked the smell of a chemist's shop.
Roland was the only son of a draper from County Antrim in Northern Ireland, who was brought up in Thames where he received his early education. His parents wanted him to become a draper, to following the footsteps of his father. However, his father died when Roland was aged 12 years.
Roland started his career as an apprentice chemist in Thames and finished his time with Shaw's Pharmacy, Queens St, Auckland. He then took up relieving positions in Auckland and Dunedin before being persuaded by a friend to open his own pharmacy in Remuera on the corner of Remuera Road and Victoria Ave. A friend had told him there was "room for two chemists in Remuera." This was in 1924 when (as mentioned) the area's population was only 3000. Roland battled to make ends meet, and after two years his pharmacy started to show a small profit. The family initially lived on the premises, and in fact Peter Wylie had his early years here.
Mrs Wylie's father also helped Roland Wylie with construction of the required shop fittings. Mr Wylie worked tremendously hard to establish the business. There was Saturday and Sunday work, and Mr Wylie often climbed from his bed to make up prescriptions in times of emergency.
Roland "took a gamble" in the early 1930s and bought the corner block of shops so that he could display a wider range of merchandise. A few years later, he built a further two shops on adjoining land.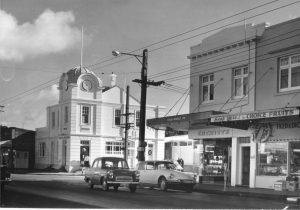 "Black Day in Life of Pharmacy" reads the Herald's headline.
An explosion wrecked Wylie's Pharmacy early on the morning of January 9, 1938, which injured five people and caused more than £2000 worth of damage. Three injured were from the Fire Brigade and two were locals. The worst inflicted was Mr. Lynch the local garage owner.
He had walked from his garage premises a few doors further along Remuera Road and was standing near the intersection when he was thrown bodily to about the middle of the road. He managed to crawl a few yards, rose to his feet and then collapsed as occupants of shops on the southern side of Remuera Road rushed to his assistance.
The explosion completely shattered the interior of the shop and the stock was reduced to a heap of useless litter, piled high on the floor and spilling our on to the footpath.
Heavy cupboards and shelves partly torn from the walls, leaned over the counters, and the floor was knee-deep in wreckage. Photographs and wrappings floated in pools of mixed drugs and medicines, and the smell of chemicals was overpowering.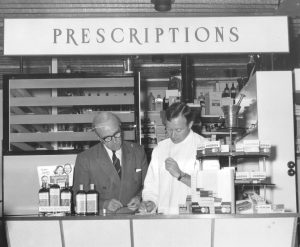 Adjoining premises also suffered extensively. The rooms of Miss L. Burke, chiropodist, were completely disarranged. On the upper floor, instruments were scattered about in the rooms of Dr. Max Wagner. The windows of two shops on the southern side of Remuera Road were broken by flying debris.
Peter Wylie was at a loose end when he left Mt Albert Grammar School. He says it was only by a process of elimination that he decided to become a chemist.
He joined J. C. Sharland, one of Auckland's longest established pharmacies. After the first week, he was all prepared to "throw in the sponge."
Peter Wylie qualified at Sharlands and with his father now extensively involved in marketing – Wylie's Fresh Dried Yeast and Wylie's Brufax were two prominent lines – he decided to join his father at Remuera.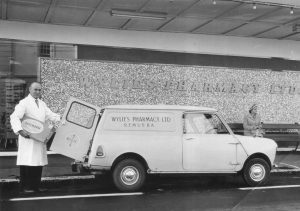 Roland never really retired. In spite of failing health towards the end of his career, he used to call into the shop after his eldest son, Peter Wylie, took over as manager.
Wylie's Pharmacy was involved in some significant advancements, – the microfilming of prescriptions in 1948 and the introduction of computerised stock control in 1980. Both have led to a better appreciation of customer needs and improved customer service.
Scott Milne joined Peter Wylie in 1982, and became a partner in what Peter Wylie said was a very happy arrangement.