(Transcript of talk given to Medical History Society on 7th July 2005 by Terry Sutcliffe)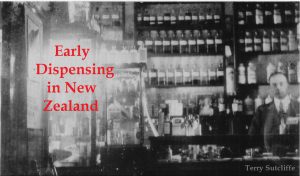 This article is the first of 2 parts, being through the late 18th Century, to the introduction of the Pharmacy Act in 1880.
Next article will be the "classic" period of the well established  and regulated retail pharmacist from 1880 thru to 1940's  ( The introduction of modern open display and predominantly proprietary pre-manufactured medicines changed the face of pharmacy to it's current position.)
Firstly, the Pre – Immigrant Period
I shall specifically exclude Maori medicine, which is well presented in Dr. Laurie Gluckman's book "Tangiwai"
The first Europeans to obtain botanicals for medical treatment from indigenous N.Z. plants, were Captain Cook's crew, obtaining wild celery and certain grasses to treat Scurvy.  Sir Joseph Banks (who had studied botany under an Apothecary) and Cook had a substantial interest in scurvy and its treatment.
Whaling and Sealing vessels were reasonably well provisioned and self-contained, and usually the cook's duties included also concocting and dispensing medicines. These enterprises gradually became shore-based, and at times the cook's qualifications became embellished to the point of being passed off as a Doctor, (as was the case of "Dr" Smith of Parengerenga).  In the Otago Early Settlers Museum there is a beautiful boxed amputation set belonging to Octavius Harwood, the storekeeper at the Otakou whaling station in early 1840's, obviously a jack of all trades with highly rated medical skills.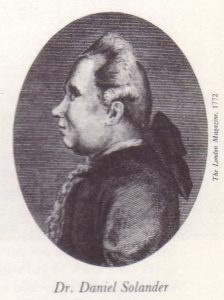 Many of the voyages were scientific, with naturalists collecting botanical samples and taking them back to Europe ie Banks and Dr Solander with Captain Cook; and Diffenbach a German educated doctor, who became naturalist for the early immigrant venture, The New Zealand Company.
British and French Naval vessels frequently plied the coast collecting spars and naturally they were very well provisioned medically, including also a ship's surgeon. Many instances are recorded of these anchored ship's giving much needed medical assistance to residents.
The first to systematically and effectively take medicine to the N.Z residents were the missionaries.  They were highly educated people, together with resourceful wives, and provisioned with medicinal resources beyond their own needs.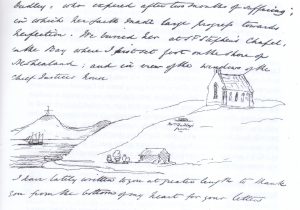 The missionary Rev. Samuel Ironside studied obstetrics and pharmacy, and in 1839 established a primitive clinic in the Bay of Islands. He later moved to the Marlborough region, where he worked a circuit of 30 villages and whaling stations.
This missionary service was taken to the highest level by Bishop Selwyn, who established St John's Theological College in Auckland in 1844. He started the first medical school in N.Z. by having all local trained missionaries study medicine and surgery.  The well known names of Drs Butts, Purchas, and Davies were amongst the teachers. Purchas was one of the most gifted doctors to settle, who was also Licentiate of the Society of Apothecaries.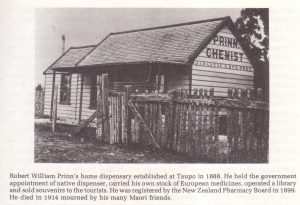 One can see from this outline, the unorganised supply of drugs and treatment to people through this late Georgian period. This must be viewed in perspective of the actual minimal number of inhabitants involved, and in almost every instance, the remoteness of localities.
Correspondingly however, the true inquiring minds of the early 19th Century naturalists and botanists were ever present, observing, collecting, researching, experimenting and remitting samples back to Europe forfurther botanical and pharmacological examination.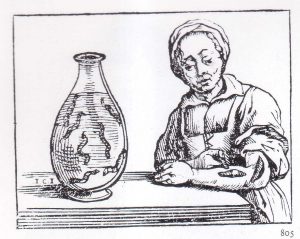 We now move to the Immigrant Period, commencing from 1839 in Wellington.  The planned immigration by the N.Z. Company, amongst others, and the annexing of New Zealand by Captain William Hobson in 1840, led to our major cities and towns being selected, laid out and settled. N.Z. grew rapidly, as did trades, businesses and professions.
This was N.Z's population explosion, and for the first time there was a broad spectrum of people wanting to make a new life in N.Z, including trained and untrained apothecaries , chemists and pharmacists , no-one subject to any governmental or professional regulation. Call yourself what you like, a former cook at a whaling station became a druggist on a default basis.  The importation, concocting, prescribing and administering of drugs was wide open.
The early chemist often had a difficult time. He frequently had to run the dispensary as a general store to survive economically. He often diagnosed, prescribed, acted as a veterinarian and dentist. Mr Gundry, a dispensing chemist in Auckland, began business as a grocer in 1844.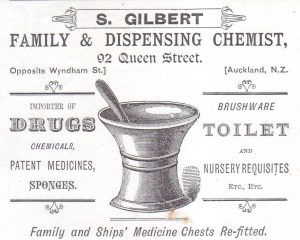 However the professionally qualified did arrive and were conscious and proud to hang up their slate and advertise their credentials.
Establishing a business in this raw isolated country was no easy task. Equipment and pharmaceutical supplies in sufficient quantity to set up shop, represented a sizeable cash investment. There was a constant worry that an essential commodity might be overlooked or lost in transit through insufficient packing. Replacements could take up to 6 months. However, it was not long before some chemists grew their own botanicals for self – sufficiency.
In the earliest statutes of N.Z from 1840-1849, the only legislation of any type relating to things pharmaceutical was the Distillation Prohibition Ordinance 1841. Under s.3 Apothecaries, Chemists and Druggists could apply for a license to keep a still of not more than 8 gallons contents for the purposes of "the preparation of medicines or other articles required bona fide for medicinal purposes." To prevent abuse the Colonial Secretary required the person to give a bond of $400 with 2 sureties of.  The Government was pretty quick to try and prevent alcoholabuse, and presumably collect revenue.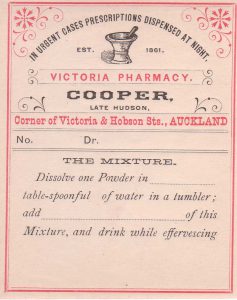 Dr. L. Gluckman records that in August 1841 J.O'Neil, surgeon and licensed apothecary, practised as a druggist, and also lived in Queen Street. An early lithograph of Auckland dated Feb 1844. identify's William McKenzie, Druggist in the shop numbered 10 on Shortland Crescent. Reg Combes in his book, regards the Scot. McKenzie, as the city's first pharmacist.
During this early growth period, where there was a shortage or absence of medical help, the resourceful immigrant was often ready to Do It Himself. Possibly provisioned with a small apothecary chest and comprehensive medical books written for the immigrant, no doubt much medicine was self-administered. Sir John Logan Campbell, arrived in 1841, with massive pharmacy trunk, now displayed in the Auckland Museum, bears testament to the need for self – sufficiency in those early days.
However professionalism crept in, and by the mid 1860's most towns and villages would have boasted a resident chemist. Many of these had U.K or continental professional credentials, which would conspicuously identify them from the self – taught home – bred quacks.  Legally, there was still no formal legal registration system to guide the unsuspecting public.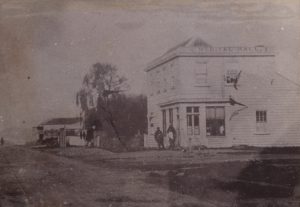 Many of the well known chemist family dynasties started in the 1870's period –The Castles of Wellington; the Oddies of Timaru; the Hudson and Cooper lineage of Auckland. (whose items now repose in a Victorian replica pharmacy at MOTAT Museum in Auckland).
Also famous mid-Victorian indigenous manufacturing and retailing chemists blossomed, amongst them being Bonningtons, Ponds; Lanes; Sharland, which became household names.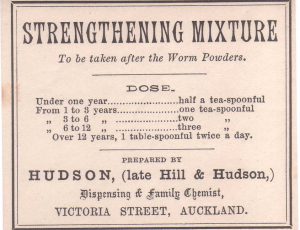 A very picturesque image of an early pharmacy is written by E.J. Wakefield referring to the great show shop of Wellington in the 1840's. "This was the Medical Hall, which parades it's red & blue bottles, vases of toothbrushes & heaps of sponges, phials, mortars & hieroglyphic labels. The visitor is supplied , too, with excellent soda water, made on the premises, and the windows are filled with cockney puffs of ointments and horse medicines".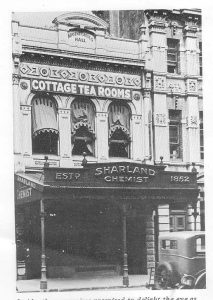 J.C Sharland was an household name in Auckland, which extended to him advertising a "Special Appointment to his Excellency the Marquis of Normanby" who was Governor of N.Z from 1875 to 1879.  He established the business in 1867 and ran the Apothecaries Hall in Shortland Street.  The shop had a front window similar to the high quality of the shop in Wellington, described above. Further to the façade it is recorded that "upon entering one would see on a marble table a small fountain where perfumed waters are in constant play". All very gracious. He also set up a large manufacturing and wholesaling operation in Lorne Street, trading under the "Moa" Brand. Sharland also established a trade journal which evolved into the Pharmacy Society journal.
James Sharland was one of Auckland's gentleman, living a very elegant life of good taste. He wrote a booklet called "The Settlers Guide and Household Companion". Body maintenance included "tepid shower or a sponge bath and then give yourself a quarter hour's rub with a Sharland Horsehair band to remove the useless, corrupted and worn – out particles on your skin". Surely not the daily toilet for the average Auckland resident in 1878!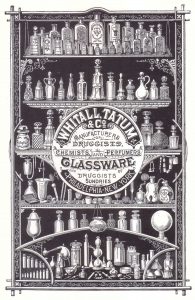 The quintessential look of mid to late Victorian shop fronts and interiors developed with the growth of the international supply companies.  They published comprehensive trade catalogues, which had virtually everything required to establish and maintain the business, as well as sales representatives throughout the country. One of these trade houses, Whitall Tatum, had their only office outside of U.S.A in Sydney, Australia.
Individually, some intriguing and versatile early chemists appear throughout the country, and some of these are now briefly discussed.
The 8 chemists of Thames (the early gold mining town) were a different group, many of them had a quartz crushing battery out the back of their premises together with a berdan. Martinson had just this and by 1875 the turns up in K Road, Auckland as a chemist operating Chemical baths. J.W. Hall was in pharmacy partnership with a scientific chemist, and did mostly gold assaying, he had a huge array of equipment out back being gold crushers, iron mortar, berdans and assaying gear. An amusing timeless quip that comes out of his memoirs was that "N.Z. is a fine country, no noxious reptiles, except politicians".
There are often some extremely entrepreneurial chemists, one being James Haslett in Queen Street, Auckland who was a buyer of ambergris (a component in perfume manufacturing.)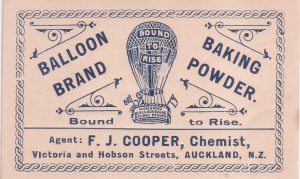 Also in Auckland, James Hudson arrived in 1857 being a trained chemist / druggist from London. He developed the "Balloon Brand" baking powder and also produced Hudson's inks, made from N.Z native timbers. Hudson's business was later taken over by his son – in – law, Cooper and finally the shop shut in 1980's.
To conclude, we can see that by 1880 retail chemists were well established, local manufacturing was happening on a large scale, and high quality and wide range of international shop supplies and equipment was available. But still no overall control and co-ordination of who could actually call themselves a chemist. A professional ground swell led to the passing of the Pharmacy Act 1880; and all existing practising chemists had to register, which now set up minimum level of expertise and an ongoing examination system.
Bibliography:-
Don Grady – "Sealers and Whalers in N.Z waters"
Rey Combes – "Pharmacy in New Zealand"
Murray Frost – "Behind the Dispensing Screen"
Philip May – "The West Coast Gold Rushes"
"The Chemist and Druggist and Pharmacist of Australasia"
Laurie Gluckman – "Tangiwai"
Nola Easdale – "Five Gentleman"s Residences"
N.Z. Statutes – 1840 – 1849